Careers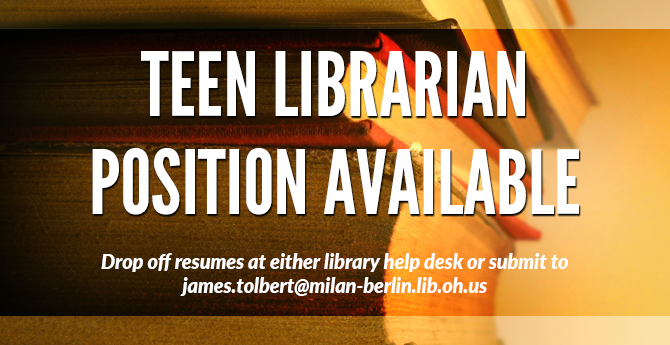 Youth Services Librarian, Teen Emphasis
FLSA Classification: Non-Exempt, pay range $14 – 18.50 per hour
Typical schedule: 40 hours per week, M-F, occasional Saturdays or evenings required.
Reports to: Director
Summary description: Provides reference and circulation services (assisting the public, receiving and checking out books and other media, answering the telephone and assisting callers). Maintains inventories of books, magazines, periodicals and other media. Oversees collection development and maintenance of the YA/Juvenile collection. Maintains and cultivates positive, life-long relationships with children, teens, parents, schools, and teachers. Initiates, conducts, and supervises programming designed to encourage use of the library by minors, including but not limited to films and special events, crafts, storytimes, reading clubs, school and community outreach. Coordinates daily activities of assistants and volunteers assigned to YA/Juvenile department. Stays abreast of current trends in education, youth services, and library fields. Other duties as directed by supervisor.
Minimum qualifications: BA/BS in Education, Early Childhood Education, or a related field OR 3+ years working with minors in an instructive capacity. Must have reliable transportation to Milan and Berlin Heights. Proficiency in the Windows environment. Exceptional customer service skills. Strong organizational skills. Must be able to pass a criminal background check.
Desired qualifications: MLS with a concentration in youth services, or Master's in Education, ECE, or a related field OR 5+ years working with minors in an instructive capacity. Proficiency in OSX, iOS, Android environments. Familiarity with SirsiDynix Workflows. Supervisory experience.
Resumes can be dropped off at either location or emailed to james.tolbert@milan-berlin.lib.oh.us
Anticipated start date of November 29, 2021.
The Milan-Berlin Library District is an Equal Opportunity Employer.
---