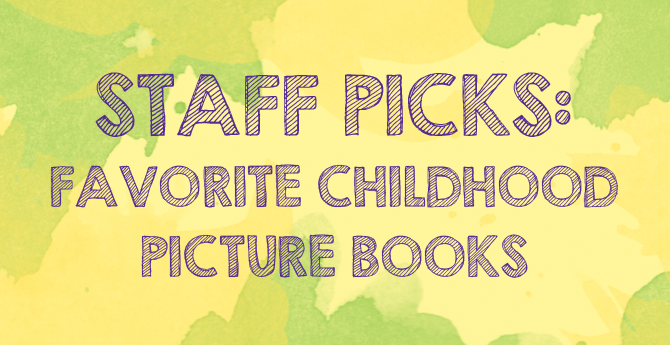 November is Picture Book Month, and to kick off our month-long celebration of youth literacy, we're sharing favorite titles from our own childhoods, along with a handful we love as grown-ups. A well-written and illustrated picture book has the potential to stay with and influence the mind of a child decades down the line. We hope you'll decide to share some of our suggestions with your own loved ones.
Do you have favorite picture books from your childhood? Comment and share your recs with us!
---
Abby, Children's Services Librarian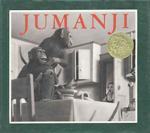 JUMANJI by Chris Van Allsburg
"Jumanji by Chris Van Allsburg was by far my favorite book growing up. I was fascinated by the idea of game coming to life. I would spend hours looking at the beautiful illustrations and wondering about the past owners of this strange game."
The game under the tree looked like a hundred others Peter and Judy had at home. But they were bored and restless and, looking for something interesting to do, thought they'd give Jumanji a try. Little did they know when they unfolded its ordinary-looking playing board that they were about to be plunged into the most exciting and bizarre adventure of their lives.
---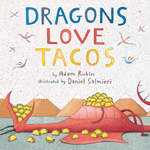 DRAGONS LOVE TACOS
"Dragons Love Tacos is one of those rare children's books that makes me laugh out loud every time I read it to kids. It's interactive, beautifully illustrated, and has dragons! After all, 'The way to a dragon's heart is always through his stomach.'"
Dragons love tacos. They love chicken tacos, beef tacos, great big tacos, and teeny tiny tacos. So if you want to lure a bunch of dragons to your party, you should definitely serve tacos. Buckets and buckets of tacos. Unfortunately, where there are tacos, there is also salsa. And if a dragon accidentally eats spicy salsa . . . oh, boy. You're in red-hot trouble. The award-winning team of Adam Rubin and Daniel Salmieri has created an unforgettable tale of new friends and the perfect snack.
---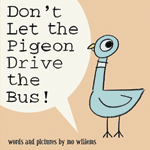 DON'T LET THE PIGEON DRIVE THE BUS! by Mo Willems
"Mo Willems has become one of my favorite children's authors, and this book is what he's best known for. Great to read with toddlers who love the word 'no'."
The bus driver is leaving for a little while and has one simple request: Don't let the pigeon drive the bus! It won't be easy; this bird is pushy. And he can be very persuasive.
First, he'll ask nicely and will promise to be careful. Then he'll give lists of reasons why he should be driving. Eventually, he'll just melt down. But will any of his attempts work?
---
Barbara, Tech Services Librarian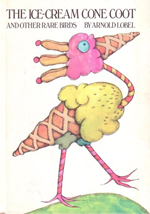 THE ICE-CREAM CONE COOT AND OTHER RARE BIRDS by Arnold Stark Lobel
"This was my favorite picture book.  It contained such wonders as Soup Ladle Larks, the Dollar Bill Dodo, Pincushion Piffle and many more imaginative fowl.  I would look through it for hours.  That probably explains a lot about me now."
All the birds inside this book
Are very strange and rare.
And if you travel to the zoo
You will not find them there.
Don't look for them in nature books,
In parks or pet shop cages.
The Drippet, Piffle and the rest
Live only on these pages.
---
Christy, Marketing and Technology Librarian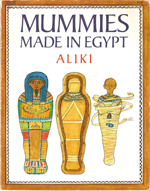 MUMMIES MADE IN EGYPT by Aliki
"Mummies Made in Egypt was my first real exposure to ancient Egyptian culture, and I've been fascinated with it ever since. I still remember the pages that talked about the actual mummification process, along with those that touched on why the process was so sought after to begin with. Considering it's been 30 years, I'd definitely say it made an impression."
A mummy is a mystery–hidden in layers of ancient bandage, bedecked with priceless jewels. Why did the Egyptians of long ago prepare and wrap their dead to last forever? And how did they do it? Step by step, follow the process that took seventy days–from the embalmer's slab, where the corpse was made ready, down into the tomb, where the mummy was sealed away.
---
Jo, Library Operations Manager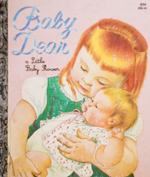 BABY DEAR by Esther Burns Wilkin
"This was my favorite growing up.  Who could resist those chubby cheeks?"
Baby Dear is my brand-new baby doll. Daddy brought her to me on a very special day. It was the day he brought Mommy and our new baby home from the hospital.
---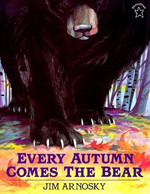 EVERY AUTUMN COMES THE BEAR by Jim Arnoski
"It is so beautiful! I just love the watercolors."
Each autumn, just before the onset of winter, a bear shows up in the rugged woodland behind a family farm.
---
Mackenzie, Teen Services Librarian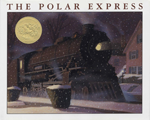 THE POLAR EXPRESS by Chris Van Allsburg
"The Polar Express by Chris Van Allsburg is my favorite because it was a tradition in my house to read every year on Christmas Eve, and I just love the magic!"
A young boy, lying awake one Christmas Eve, is welcomed aboard a magical trip to the North Pole . . .
Through dark forests, over tall mountains, and across a desert of ice, the Polar Express makes its way to the city atop the world, where the boy will make his Christmas wish.
---
Marci, Adult Services Librarian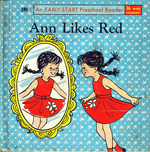 ANN LIKES RED by Dorothy Seymour
"My favorite childhood picture book was Ann Likes Red. I can't necessarily remember why I liked the book (it could have been the cute blue cover), but I do remember it was the first book I read all by myself. I can remember checking that out from the children's department at the Milan Public Library, and I knew exactly where it was located and checked it out on more than one occasion."
Meet Ann, an independent little girl who knows what she likes. Ann's mother and salespeople cannot convince Ann to select a blue dress, a brown hat and tan sandals. Ann likes red instead. Red! Red! Red!
---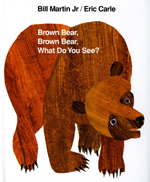 BROWN BEAR, BROWN BEAR, WHAT DO YOU SEE? by Bill Martin Jr. & Eric Carle
"My favorite book to read with my kids was Brown Bear, Brown Bear, What do you see? I loved the repetition and the illustrations. Obviously, I must have a thing for colors and books."
Readers first meet Brown Bear, followed by Red Bird, Yellow Duck, Blue Horse, Green Frog, Purple Cat, White Dog, Black Sheep, Goldfish, Teacher, and Children. Rhyming and predictable text combined with tissue paper collage illustration makes this a delight for young readers.
---
Rebecca Daneker, Local History Librarian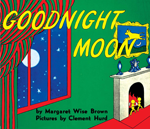 GOODNIGHT MOON by Margaret Wise Brown
"Goodnight Moon by Margaret Wise Brown is a favorite for bedtime.  The kids never tire of looking for the mouse in the room on every page."
In a great green room, tucked away in bed, is a little bunny. "Goodnight room, goodnight moon." And to all the familiar things in the softly lit room—to the picture of the three little bears sitting on chairs, to the clocks and his socks, to the mittens and the kittens, to everything one by one—the little bunny says goodnight.
---