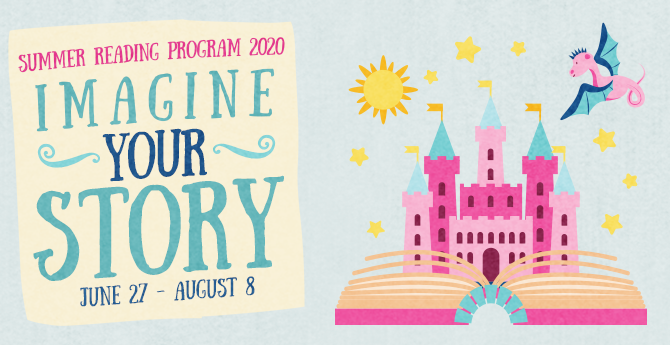 Celebrate literacy this summer from June 27 through August 8 with fairy tale and folklore-centric virtual programming, take & make crafts and activities for little ones and family, literary BINGO, and so much more! Plus, as always, earn chances to win fantastic prizes for all ages!
Weekly Schedule
Tuesdays: Once Upon a Craft videos are posted to our YouTube and corresponding take & make kits are made available (while supplies last) at both our Milan and Berlin locations.
Wednesdays: New fairy tale-centric Story Time with Ms. Stacy videos are posted to our YouTube.
Reading Raffles for All Ages
Participating in our summer reading program is easy-as-pie. Registration is not required. Simply fill out and turn in a ticket for your age group (children, teens, or adults) for each item you check out and read. This includes books, books-on-CD, magazines, comics, eBooks, and digital audiobooks.
Story Walk
This summer, follow our story walk routes to enjoy reading charming fairy tales and folklore outside with your family! The Milan walk tells the story via windows of businesses on the Milan Square, and our Berlin Heights walk follows the fence around Edison Middle School.
The third book in our summer series, The Watermelon Seed by Greg Pizzoli, is now available at both locations.
Once Upon a Craft
Do you love crafting? Every week, enjoy a fun, fairy tale-related craft project that you can pick up and make at home. Instructional videos will be posted on Tuesdays, and kits will be available at both locations while supplies last. Check out our social media (Facebook, Instagram) for sneak peaks of upcoming projects!
Week #1: Dragons
Week #2: Crowns
Week #3: Magic Wands
Week #4: Gingerbread Men
Week #5: Frog Puppets
Gnome on the Roam & Magical Matilda
Gnome on the Roam and Magical Matilda are our summertime answers to Elf on the Shelf! Visit the library during summer reading program, and find where our mischievous gnome, Quillz, is hiding in Milan and our dashing unicorn, Matilda, is hiding in Berlin Heights. If you find them, go to the desk and tell a librarian where they are to get a ticket for our prize drawing. And make sure to check out our social media for hints on how to track them down!
Fairy Tale Trail
Take on a quest to slay a dragon and save the day! This sidewalk obstacle course will be up and running from July 20th -July 25th, weather permitting.

Fairy Garden Look & Find
Who doesn't love a miniature garden full of fun and magic?! Stop by our Milan and Berlin locations to see the fairy gardens on display in the children's areas, and see if you can find all of the items we've hidden within them. They will be on display from June 27th through August 8th.
Literary BINGO
CHILDREN UNDER 12
In addition to our reading raffles, children under 12 can also participate in literary BINGO. Simply mark off any squares on our "Imagine Your Story" BINGO sheets that correspond with something from within books you're reading this summer. When you get a BINGO, bring in your sheet and trade it for a small prize! Download BINGO sheets HERE or pick them up in the library.
TEENS 13-18
For our teens, we're offering a BINGO experience that asks readers to explore literature and the world around them (while being safe and practicing social distancing, of course). When you get a BINGO, bring in your sheet and trade it for a small prize! You can download the teen BINGO sheets HERE or pick them up in the library.