Summer 2017 Scavenger Hunt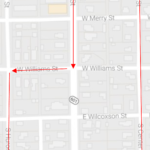 Take in the rich architectural history of Milan and explore the village through our Summer 2017 Scavenger Hunt. Pick up an "architecture treasure map" at the library or download a copy below and then follow the route around town to see if you can identify the selected building clues. Visit the Milan circulation desk to see a copy of the answer key and discover how keen your eyes are!

Download a PDF of the Architecture Treasure Map [HERE].
Click the above, right thumbnail for a full-sized map of the scavenger hunt route.
---
Building Clues
---
ADDITIONAL SUMMER 2017 EVENTS OF INTEREST:
Ohio's Canals: An Engineering Endeavor Still Traced in Ohio's Landscape [ A ]
June 24 | Saturday | 12:00PM – 1:00PM
MILAN PUBLIC LIBRARY
Beginning in 1825, Ohio began constructing its canal system, which eventually included nearly a thousand miles of channel and towpaths laced with stone locks and culverts, aqueducts, feeder lakes, and slackwater ponds. These canals opened Ohio to world commerce, allowing the export of surplus grains and manufactured goods and the import of items made in New York, London, and Paris. The canals also linked the Great Lakes with the Ohio River and Ohio towns with markets in Chicago, Buffalo, New York City, Pittsburgh, St. Louis, and New Orleans. Canal builders negotiated Ohio's diverse landscape as they traversed glacial moraines and the Allegheny Plateau. The 'big ditch' stitched the settlements of Ohio's wilderness together and helped make it a player on the world's stage.
---
Architecture of Milan: A Walking Tour With Dan Frederick [ A ]
July 12 | Wednesday | 12:00PM – 1:00PM
MILAN PUBLIC LIBRARY
Take a walking tour around Milan with our community's resident architect, Dan Frederick, as we talk about historical features around the village. Explore the beauty and history of the village as we walk around town starting at the library. Put on your walking shoes, and be ready to learn about Milan's architectural roots.
---
Author Event: Lake Shore Electric Railway with Dennis Lamont [ A ]
August 5 | Saturday | 12:00PM – 1:00PM
MILAN PUBLIC LIBRARY
Hop aboard, and learn about The Lake Shore Electric Railway. It commenced operation in 1893 on the north coast of Ohio, providing transportation to Cleveland, Lorain, Sandusky, Toledo, and on to Detroit, Michigan. The Lake Shore Electric Railway connected with many other electric railroads to offer a comprehensive quilt of transportation. This allowed increased commerce, ease of transportation, and access for the industrial-era family to visit such recreation spots as Linwood, Crystal Beach, Avon Beach Park, Mitiwanga, Rye Beach, Ruggles Grove and Beach, and Cedar Point, among others. An unimaginable feat in the late 1800s, the Lake Shore Electric could travel from Lorain to Cleveland (approximately 30 miles) in under one hour, making the railway a huge success. Unfortunately, this success only lasted about 40 years. Learn about the role Milan played in the development of the electric railway and the LSE. Copies of Lake Shore Electric Railway will be available for purchase for $21 as a tax deductible donation to the Beach Park Railway.
---