Introducing our brand new alternative book club: Read It, Rate It, Review It! Each month, give us feedback on our Community Reads Selection, and let us know how many stars you rate the book and if you liked or didn't like the selection. This calendar free book choice gives you the chance to share your input without interfering with your schedule. Pick up your copy of each month's title at the help desk, and turn in your review when you return your book. The only commitment here is you and your book escaping to a different adventure each month.
---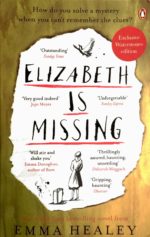 Elizabeth Is Missing
Emma Healey
Maud, an aging grandmother, is slowly losing her memory—and her grip on everyday life. Yet she refuses to forget her best friend Elizabeth, whom she is convinced is missing and in terrible danger.
But no one will listen to Maud—not her frustrated daughter, Helen, not her caretakers, not the police, and especially not Elizabeth's mercurial son, Peter. Armed with handwritten notes she leaves for herself and an overwhelming feeling that Elizabeth needs her help, Maud resolves to discover the truth and save her beloved friend.
This singular obsession forms a cornerstone of Maud's rapidly dissolving present. But the clues she discovers seem only to lead her deeper into her past, to another unsolved disappearance: her sister, Sukey, who vanished shortly after World War II.
As vivid memories of a tragedy that occurred more fifty years ago come flooding back, Maud discovers new momentum in her search for her friend. Could the mystery of Sukey's disappearance hold the key to finding Elizabeth?
In addition to picking up this month's selection at our help desk, check out eBook and digital audiobook editions via Hoopla!
---