Introducing our brand new alternative book club: Read It, Rate It, Review It! Each month, give us feedback on our Community Reads Selection, and let us know how many stars you rate the book and if you liked or didn't like the selection. This calendar free book choice gives you the chance to share your input without interfering with your schedule. Pick up your copy of each month's title at the help desk, and turn in your review when you return your book. The only commitment here is you and your book escaping to a different adventure each month.
---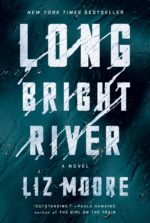 Long Bright River
Liz Moore
In a Philadelphia neighborhood rocked by the opioid crisis, two once-inseparable sisters find themselves at odds. One, Kacey, lives on the streets in the vise of addiction. The other, Mickey, walks those same blocks on her police beat. They don't speak anymore, but Mickey never stops worrying about her sibling.
Then Kacey disappears, suddenly, at the same time that a mysterious string of murders begins in Mickey's district, and Mickey becomes dangerously obsessed with finding the culprit–and her sister–before it's too late.
Alternating its present-day mystery with the story of the sisters' childhood and adolescence, Long Bright River is at once heart-pounding and heart-wrenching: a gripping suspense novel that is also a moving story of sisters, addiction, and the formidable ties that persist between place, family, and fate.
---