Virtual Book Club
Join us for online book discussions featuring titles from our digital collections. We meet via Skype, which is free to use and is available for Windows, iOS, and Android. Email contact@milan-berlin.lib.oh.us or visit the current month's Facebook Event Listing for details about joining the discussion.
---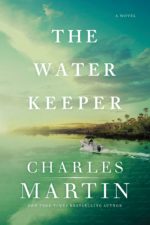 The Water Keeper by Charles Martin
Wednesday | May 27 | 6:30PM-7:30PM
Murphy Shepherd is a man with many secrets. He lives alone on an island, tending the grounds of a church with no parishioners, and he's dedicated his life to rescuing those in peril. But as he mourns the loss of his mentor and friend, Murph himself may be more lost than he realizes.
When he pulls a beautiful woman named Summer out of Florida's Intracoastal Waterway, Murph's mission to lay his mentor to rest at the end of the world takes a dangerous turn. Drawn to Summer, and desperate to find her missing daughter, Murph is pulled deeper and deeper into the dark and dangerous world of modern-day slavery.
With help from some unexpected new friends, including a faithful Labrador he plucks from the ocean and an ex-convict named Clay, Murph must race against the clock to locate the girl before he is consumed by the secrets of his past – and the ghosts who tried to bury them.
Download the Hoopla eBook HERE
Download the Hoopla Digital Audiobook HERE