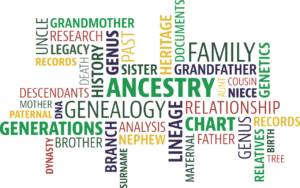 With unexpected time indoors, now is a great time to get started on genealogy research. Fortunately, there are many websites that are free to access.  The following list provides a brief overview of several of the most useful free resources for genealogy research.
---
Family Search http://www.familysearch.org : Family Search is a free genealogy database website.  However, access to the large number of records requires the making of an account.  In addition, the Family Search Wiki is an excellent resource to discover what materials exist for a wide range of family history topics, including those beyond Family Search's extensive databases.
Ohio Memory http://www.ohiomemory.org : This free website is a collaborative statewide digital library program of the Ohio History Connection and the State Library of Ohio.  Ohio Memory's mission is to help communities share, discover, and connect to Ohio's rich past through dynamic online resources.  Digital content is contributed from cultural heritage institutions and libraries from all over Ohio.  Ohio Memory's 1,000,000+ digital images include: maps, photographs, letters, diaries, archaeological artifacts, newspapers, books, audio and video.  Milan-Berlin Library District has begun to add some of its collection to Ohio Memory.
Ohio Genealogical Society http://ogs.org : The Ohio Genealogical Society is the largest state genealogical society in the United States.  While some of the content requires a paid membership, there is free access to many Ohio specific databases along with links to local chapters.
U.S. Census Bureau http://census.gov/topics/population/genealogy.html : This government website allows you to explore explanations on all federal census years and access copies of original forms and questions.
National Archives and Records Administration (NARA) http://www.archives.gov : Maintained by the U.S. federal government, NARA houses millions of microfilmed, printed, and manuscript records. It is an excellent source for census records; governmental and military history records; military pension files; product patents; passenger lists, early naturalization records, and much more.
Library of Congress (LOC) http://loc.gov : LOC houses one of the greatest collections in the world of printed and recorded materials, and is an outstanding source for free images. The Library of Congress collection includes nearly all city directories and county histories in the U.S. LOC also maintains a comprehensive directory of all known copyrighted newspapers by timeframe. Current locations of newspapers can be found in U.S. Newspaper Directory and Chronicling America.
Find A Grave http://findagrave.com : Find a Grave is one of the world's largest gravesite collections with more than a 170 million memorials.  Many photos have been added to gravesite information.
Western Reserve Historical Society https://www.wrhs.org/search-collections/ : The Western Reserve Historical Society's Library and Archives feature more than 20 million manuscripts for genealogical research and Northeast Ohio history.